Chicago Wedding Venue Information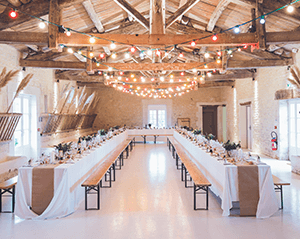 You have been there before, You have seen really nice wedding venues and you have seen some really nasty wedding venues. You are probably thinking that if the place looks like a palace, then it must be ridiculously expensive. This could be the case and it might not be the case. Sometimes when you add everything up, the venue that you thought would be way out of your league might come in to be close to some other venues you thought would be much cheaper. There is such a wide range of wedding venues in the Chicago area, you should be able to find something to suit your needs. Here a few tips that we hope helps you in your search.
If you find a wedding venue you are interested in, the first thing you want to do is to make sure your wedding date is available on their calendar. Also, keep in mind that some venues may be seasonal. Another major factor is whether the site can accommodate the number of guests coming to your wedding. Be very careful here, you don't want to be talked into a room where your guests will be crammed in like sardines. That would be very uncomfortable for them and you would be very unhappy. If you are open to it, consider having the ceremony and reception at the same venue, this could save you some money.
Very early on when you visit a location, find out if there are any hidden fees. Sometimes the price they want to share with you at first does not included items like table rental, plates, and SOCAN fees. It is better to find out about these now rather than later which is not a pleasant experience. And speaking of experience, try to avoid booking a place that has had little experience hosting weddings. For instance, maybe you have a favorite restaurant that you thought would be creative to use for your wedding. Keep in mind if they have never done a wedding before, you might have a logistical nightmare on your hands and the staff may seem lost. Look for places that are used to dealing with weddings and that understand all of the challenges associated with them.
Ask each venue you visit if they have a preferred vendors list. Sometimes these vendors will give you a discount on their services. Also, ask if they have any extras they could throw in like centerpieces or a special table for the cake. Hey, it never hurts to ask. You also want to pay attention to how the staff at each venue you visit treats you. Do they genuinely seem interested in your needs and in making your wedding the best it can possibly be. This may seem like a small thing, but you want a place with a service mentality. In such a highly competitive industry, everything matters. As soon as you are happy with what you hear and see, make sure you book your favorite venue as soon as possible. You have accomplished one of your first major decisions in your wedding plans, congratulations. Also we can recommend Wedding Venues in Detroit for some other options.