Chicago Wedding Photographers Information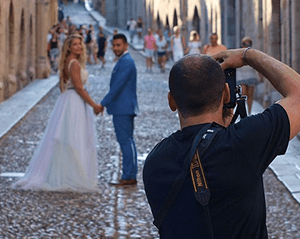 Are you a professional photographer? Probably not. So when it comes to trying to track down a wedding photographer in the Chicago area that you will be happy with, there will be a lot of work on your part in order to know what to look for. We warn you, there is a learning curve, but you want to make sure you know enough so you can discuss your needs intelligently with any potential photographer that you consider. Below, we have listed out some questions that you will want to make sure you ask of any candidate. These are absolutely essential issues that you will want to consider.
The first thing you are probably wondering is where do you even begin. We suggest talking to people you know that have been married within the last couple of years. This is a good starting place to gather names of possible photographers. You can also look online, but you want to guard against picking any results in the first couple of pages of results. These spots are often paid for by companies or individuals. If you do look online, one of the things that you will want to be aware of is whether a photographer has won any awards or stands out as exceptional for any reason. If they do, add them to your list.
Once you are satisfied that you have a solid list of at least four or five candidates, call each of them and ask if they have your wedding date open on their calendar. If they do, arrange for a time to meet them at their studio. Consider this a serious job interview. Go prepared with questions and information about your wedding that you can share with them.
The first thing you want to ask about is what do they consider their style to be. Are they a photojournalist, do they do more poses than anything else, or are they more in the fine art arena. Talk quite a bit about this and find out what they mean by the terms they throw out. This can help you quite a bit in figuring out if their style meshes with yours. One more thing on this, it would help you quite a bit if you read up on terminology related to photography before you go.
Look for experience. The more weddings a photographer has done, the more polished they will be. Find out how many wedding they have shot in the last year. If they have shot less than 5 weddings, keep moving to your next candidate. You don't want to be someone's guinea pig. Ask them why they got into the photography business in the first place. What you are really looking for here is whether this is their passion or is it just a job.
Talk about what they provide for a wedding. Is there a standard contract they work off of and are there a range of packages offered. You want to make sure that the number of shooting hours are enough to cover your wedding ceremony and reception range. How much do they charge for albums and prints? Do they provide retouch services? You will want to make sure that color correction is included in any package that a photographer offers. Do they work with an assistant? If you are having a fairly large wedding, this can be a great option because it is very hard for one shooter to cover everything but a second shooter can be capturing moments that would have been missed including action shots. Make sure you talk about the timing after the wedding. How long will you have to wait to receive your albums and proofs? Remember, the more informed you are, the better your decision making will be in the end.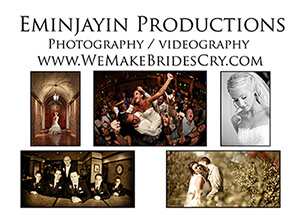 What is that old adage, "If you love what you do, you'll never work a day in your life"? Well, that pretty much sums it up! Steve Neilson is a nationally renowned photographer and speaker, teaching new photographers and amateurs basics in camera knowledge and Photoshop at numerous seminars around the country. Steve is on the board for the Chicago Photographic Society and President of the McHenry Bridal Group. Steve's charismatic personality comes alive at weddings, always making full bridal parties and families feel at ease. Steve is nationally recognized at producing beautiful pieces of wedding and engagement photography art. Steve's style is artistic and edgy. Click the picture on the left to be taken to the website for more information!