Chicago Wedding Florist Information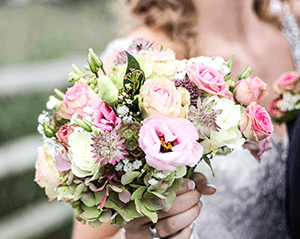 If you have started to plan and check into various wedding vendors, lets face it, a wedding is not an inexpensive endeavor. It can truly be staggering. While you are probably trying to stay within a budget, there is also that voice calling out saying that you only get married once and go ahead and spend with reckless abandon. And both side have merit. But whatever you decide to do in terms of cost, we are here to encourage you to make sure you do keep quality at a high level, you will be very unhappy if you do not. This certainly applies to your wedding flowers. When you are combing the Chicago area for your wedding florist, consider the following tips that we hope will make your wedding that much more beautiful.
Our first word of advice is to try to not become a control freak. Many brides become so obsessed with making everything completely perfect, that it really takes a lot of the fun away from what should be a wonderful and fulfilling experience. When you start working with your wedding florist, consider letting them use their talents and creative abilities to make something that will be totally amazing. Trust them that they know what they are doing and that this is their field of expertise. That doesn't mean that you won't have input, but just that you allow the process to play out after you give your input and allow yourself to be happy with what your florist creates.
One thing we recommend is that you work with your florist so that the flowers at your ceremony can be easily transitioned over to your reception. This will obviously require some forward thinking but when you see your ceremony flowers all of a sudden turn into tabletop flowers and bathroom vanity flowers, we think you will like it. This is also a way to not waste flowers that you paid good money for.
This may seem like a little thing, but we always recommend that brides choose larger blooms, this will require many less flowers. A very nice touch is to use accent pieces along with your flowers. Items like candles, lanterns, and glass holders can really add a lot to the look of not only the flowers but the whole room. If you are someone who likes to think outside of the box, consider designs that are more abstract and asymmetrical. Your florist will more than likely appreciate the chance to use their creative powers for good. And oh yes, one little tip on helping your budget. Use in-season flowers, you will have a lot of money. If you insist on out of season flowers, you had better be prepared to break the bank.
One last piece of advice, if you had any inclination at all of trying to do your flowers yourself, lose the idea right now. Its a lot more trouble than its worth and in the end you will not save as much as you think. A professional florist will help you have a beautiful wedding for a reasonable amount of money.