Chicago Wedding DJ Information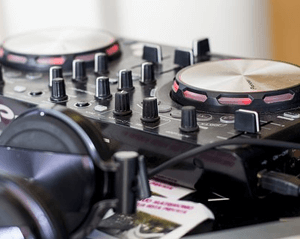 We know that you are preoccupied with a lot of factors when it comes to planning your wedding. This is understandable. One of the decisions you will have to make is who will be your wedding DJ. If you really want your reception to be a major success, make sure that you find the right DJ. It is really as simple as that. If you hire the wrong person, you will never forget the horror of it all and no one else will ever let you forget it either. The Chicago area has some of the best wedding DJs in the entire country, so a good one is out there for you. The key for you is how to find that good one. It can be done and we are here to equip you with the tools to make it happen.
Keep in mind that as you start checking into potential DJs, you will find that there can be quite a wide range of prices. There are many different reasons for this, but quite often certain DJs are more because, quite frankly, they can command a higher price. They are that good. There are a number of sources to get some names to consider. The first thing you can do is ask around your circle of family and friends. You probably know someone who was married recently, see if they would recommend the DJ they had. You can also ask some of your wedding vendors that you have already booked. Some of them keep a preferred vendor list.
Once you know if a potential DJ has your wedding date open, call them up and ask to meet with them to discuss the possibilities. The first thing that we recommend you pay attention to is their professionalism. How do they treat you? Do they show you respect or do they put on some kind of act? Experience is a huge factor here. Ask how many weddings they have performed and how many in the last month. You want your DJ to have preformed at least 25 weddings. It takes time and actually doing it to work out kinks in a performance and to be able to handle curve balls that can happen during a wedding.
Its nice if the DJ has performed at your wedding venue before. This means they will know the setup and possible pitfalls that the location presents. Ask them for references from recent weddings. You want to get at least 5 or 6 names. Make sure you do your due diligence and call these references to find out how things went at your wedding. They may bring something up you had not thought about. Ask yourself if you actually like the candidate. Remember, you are going to be possibly entrusting your family and friends to this person and you want to make sure they will treat you and your guests with the utmost respect.
Check to see if they will allow requests during their performance. Some will and some won't. Share with them any special songs you would like to have played and any absolutely do not play songs. They should be able to show you a potential play list, make sure you go over this with them. It would be nice if you offer to feed them during their performance. Remember, a happy DJ will be a better DJ. Work out any details about pricing including finding out of there are any hidden costs. Once you have all of this information, you can make a better decision. Happy hunting.

You can't go wrong with Chi DJ Services!

Sounds Abound is the Chicago area's most trusted name in wedding DJ entertainment. Sounds Abound has been rated as a top vendor by the most prestigious websites and publications in the wedding industry: they are a perennial "Best Of Weddings" pick as rated by local wedding couples on TheKnot.com, and Wedding Elite Magazine named Sounds Abound the #1 DJ Company in the state of Illinois and one of the Top 10 DJ Companies in the U.S. So what makes Sounds Abound so great? It's more than having the city's best wedding DJs. It's providing couples with the absolute highest level of customer service in the DJ industry. From your initial consultation, to booking them as your DJ company, to planning your music choices, to meeting in person with your DJ, their friendly and knowledgeable staff is ready to assist you every step of the way. To learn more, visit Sounds Abound online at www.soundsabound.com.