Chicago Wedding Cake Information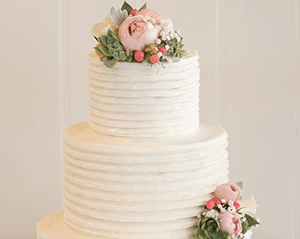 You need a baker. There is no shortage of cake makers in the Chicago area. But with so many to pick from, how do you choose? We have a few ideas, so feel free to peruse the tips below and you will be well on your way to the wedding cake of your dreams.
Do some soul searching. Do you consider yourself to be a person that likes to stick with tradition or are you wild at heart and like to break all of the rules. Actually, if you pick the right baker, you may be able to have the best of both worlds. This is the kind of topic you will want to make sure you talk over with your cake maker. But there is no reason that you can't have elements of a traditional wedding cake with modern artistic touches. When you meet with potential bakers, make sure you bring with you your color scheme, theme, dress fabrics, and any pictures or material that inspires you. A really good cake maker will be able to take all of this and come up with sample designs for you to discuss.
Here is a suggestion and we hope that you will heed it. When you go for a cake tasting session, go alone. We have seen it all to often, if you bring your family and friends along to these sessions, the waters get too muddied. You want a clear head to decide how you want your wedding cake to taste. If you have three or four people there and each likes something different, you will be pulled in different directions and won't want to pull the trigger on what you have in your heart because you will want to please everyone.
When it comes to how your wedding cake will be decorated, here is a nice little touch you can add. Consider what kind of blooms you place on your cake. Whether they are real flowers or sugar, different blooms mean different things. This is one way to have your cake tell a story and be meaningful to either your family or your tradition. Ask your potential baker about the difference in price too.
Another nice addition to a wedding is a groom's cake. When you visit your candidates, take the groom with you and ask for his opinion. Then while you are there, ask him if he would like to create a groom's cake. Whatever his heart desires can be his. Maybe he loves his alma mater to the point he wants a cake in the school's colors. There are hundreds of ideas and cake shapes he could go with.
Whatever you decide, keep in mind that cake design has come a long way. You don't have to stick with a certain style, the world is open to you. If you want to get creative with color, shape and filling, go ahead and make yourself happy. It is your wedding after all. And in terms of timing, we suggest you look to book your cake maker at least 6 months before your wedding date. The quality bakers have their calendar fill up very quickly.