Chicago Wedding Band Information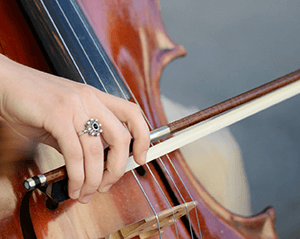 It comes around once in a lifetime. You are saying I do to the love of your life and this a cause for major celebration. If you want to up the celebration to another level, the only way to do it is to hire a live wedding band. This will kick your reception into high gear and have your guests dancing in the streets. The Chicago area is known for live music and there are so many musicians to choose from that it can be a bit overwhelming. But, if you follow our tips below, you will find there is a method to our madness. As long as the road leads to a great wedding band, that is all that matters.
The first thing you want to do is come up with budget numbers. What are you willing to pay for a live wedding band. Keep in mind that it is not going to be cheap. You are talking about a group of at least five seasoned and talented musicians. Do some research on what a band might cost and then based on your available money, at least come up with a starting point.
You want to consider a band's style. You know what you like to hear, but you also know that there is going to be a large cross section of humanity at your wedding. Make sure that you choose a band that can keep everyone happy. A seasoned and experienced wedding band should be able to play a wide range of music and accept requests as well. You need to figure out how long you want your band to play as well. Then there are little details like will they need breaks and will you feed them.
If at all possible, go and listen to any band you are considering during a live performance. If this isn't possible, at least watch a DVD and listen to CDs. If you have to watch them on a DVD, ask if they have a wedding performance you can watch. Pay attention to the quality of the music and how the crowd reacts to them. Are they polished and do they have a great stage presence?
When you have narrowed your search down, check into a bands availability. You will want to make sure you are starting your search at least eight months before your wedding date because the really good ones get booked quickly. When you contact the band, ask them if they have played at your venue and if they have not, ask them if they are willing to do a site review to check out any potential problems in set-up or acoustics. If they will not agree to this, then drop them from your list. If you have settled on a particular band and are satisfied with them in every way, ask them what kind of deposit they require to book them and do it immediately. Make sure the contract spells out everything that each side is to perform including details like food provision, set-up times, tear down times, and a cancellation policy. Sit down with a representative from the band to go over every little detail in the contract. Once you are satisfied, make sure both parties sign it and you are all set.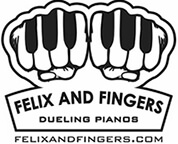 You can't go wrong with Felix and Fingers for your wedding! This is the only dueling piano company in the entire United States to win both the best of The Knot (three years in a row!) & Wedding Wire's Couples Choice awards! Make your reception award winning with this band, you aren't going to regret it.